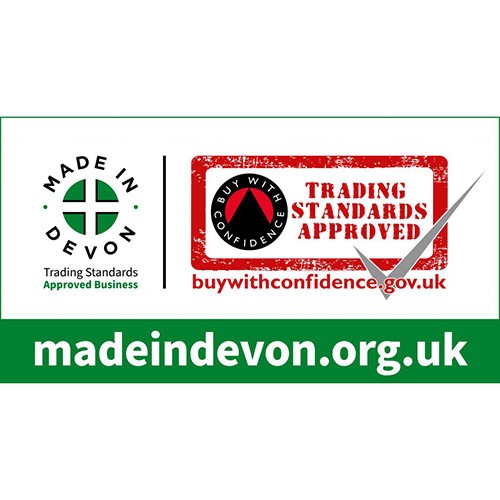 Hose-Equip Limited T/A HEL Performance have recently been approved to use the 'Made In Devon' and the 'Buy With Confidence' Trading Standards logos after passing all requirements of both schemes.
Our company was visited by an Officer from Trading Standards to see how we deal with consumers, that all of our terms and conditions are fair and correct and that we do indeed manufacture here in our Devon HQ. The Buy With Confidence and Made In Devon accreditations only relate to Hose-Equip Limited T/A HEL Performance (the motorcycle side of the business) and its products and services, and not to products and services offered/provided by Hose Solutions Ltd (the automotive side of the business) although many of the products they sell are bought directly from HEL Performance.
We manufacture all metal motorcycle components at our Devon factory from a mix of materials. We buy the hose in from a manufacturer in the UK and our stainless steel bars are obtained from Amodil in Worcester from their mill in Spain. Our aluminium billets are bought from Smiths Metals from their Redruth branch to minimise transportation miles.
All of our stainless steel brake line fittings, aluminium master cylinders, calipers, thumb brakes and finger brakes are all made right here at HEL HQ on our own fleet of Star CNC and Brother CNC machines. If you are ever in the area we are more than willing to show you around for a factory tour so you can see first hand what we do. All brake lines are assembled in house.
It's huge for us – we are a Devon Company that offers employment and enrichment in the local community as well as a company that benefits other suppliers in the area. We offer a worldwide brand on a local basis in over 80 countries around the globe and are very proud that we are made in Devon, made in England and sell to the world. With this comes a duty to uphold company values and ethics as well as looking after the customer at all costs. Customers drive our business and we look after ours above and beyond all others.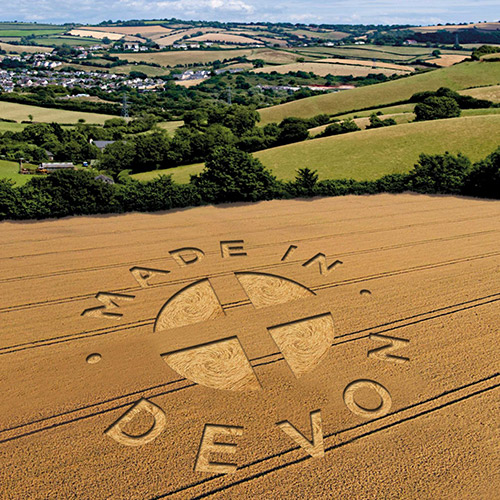 Made in Devon is a major new scheme that aims to help businesses and consumers buy local and support local.
Any business that is based in Devon, has been operating for more than six months and takes pride in buying from and supporting other Devon businesses can apply to join. Consumers who want to buy from trustworthy Devon companies can look on the Find a Local Business page or the Love to Shop Local page and be rest assured they're supporting a local, legal and honest Devon business that has the Trading Standards stamp of approval. They also get to be part of major promotional campaigns that reach thousands of people every month. Buying from locally owned, independent businesses benefits our communities, the economy, and the environment.
Buy With Confidence is run through the cooperation of a number of Trading Standards Services. We consider that Trading Standards has the right expertise and motivation to offer a scheme which offers genuine benefits to consumers and businesses. Accordingly, the Buy With Confidence scheme is administered by local authority Trading Standards Services directly, and is not outsourced.
In order to become a Buy With Confidence member, a business must first apply or be recommended to join the scheme and must then pass a set of tailored background checks. Membership of the scheme is not given lightly – amongst other checks, each applicant will have their complaints history reviewed and will be audited by a Trading Standards qualified person. Good references are required from previous customers and applicants must agree to abide by the scheme's code of conduct, which requires them to follow the letter and spirit of the law. Criminal records basic disclosure may also be required in some circumstances.
Only if all the scheme requirements are met, will a business be granted membership, and their conduct will continue to be monitored thereafter. We cannot promise that Buy With Confidence members' work will be perfect every time, but you can expect any problems to be dealt with fairly by the business, and you can turn to Trading Standards for advice in the event of an unresolved issue.
All prospective members are thoroughly vetted by Trading Standards staff before being invited to join the scheme. The performance of members of the scheme is continuously monitored via the Citizen's Advice Consumer Service and through customer feedback submitted directly to us. In the unlikely event that concerns are raised about a member we take appropriate action and if necessary will remove them from the scheme.